Executive Summary
After a close partnership spanning 20+ years, Singlebrook is now the majority owner of Peerfocus, a provider of web-based software for sophisticated surveys, data collection, and powerful benchmarking. We've been supplying technical services to Peerfocus for many years, and we're now taking care of Peerfocus's administration, client relations, and strategy needs as well. This transaction deepens the relationship between the two companies and ensures that Peerfocus will continue to serve current and new customers for many years to come.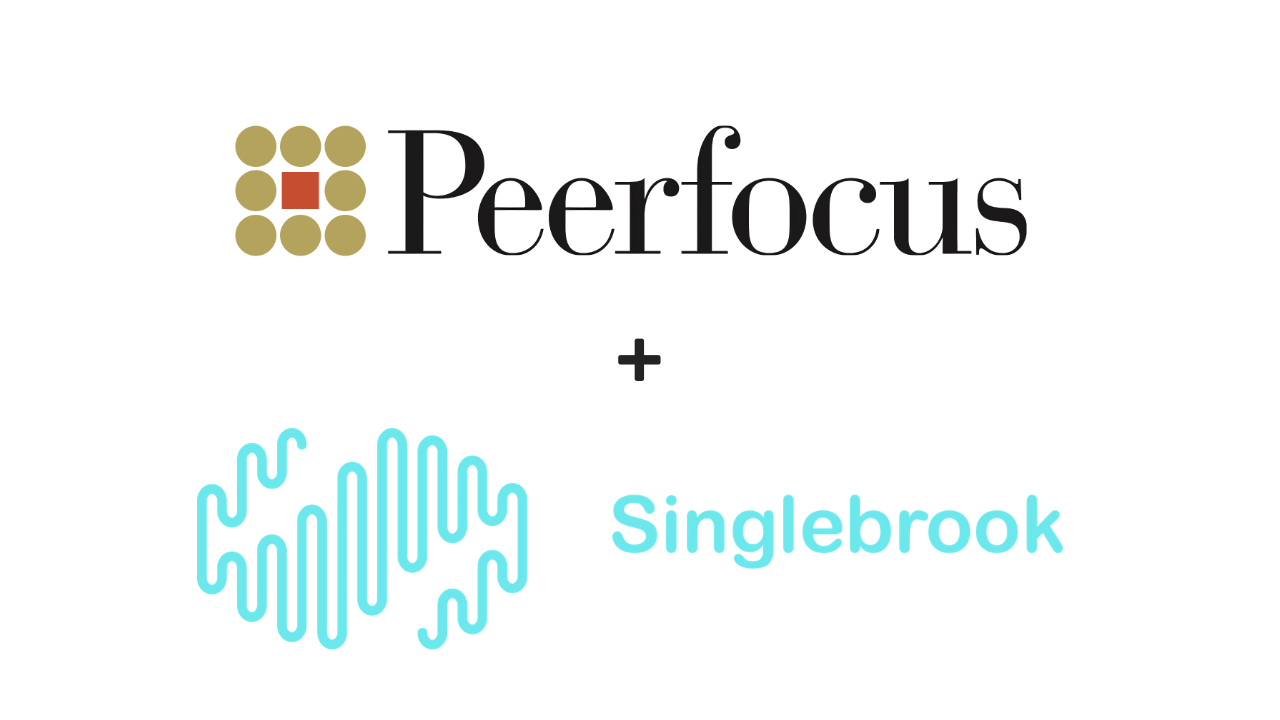 Evolving Leadership
Singlebrook co-founder and CEO Leon Miller-Out is now also President of Peerfocus. Leon has been involved with Peerfocus since its inception, and formerly served as CTO. Jessica Brown, Singlebrook's Customer Experience Manager for Peerfocus, is now the primary point of contact for our customers. Jessica's deep background in survey research and extensive experience with the Peerfocus platform makes her exceptionally well-suited for this critical role.
In addition to these changes, we've recently hired a new developer, Chris Evans, who came to us with professional experience writing survey software. We couldn't be happier to have him on the development team, joining senior developers Shane Cavanaugh and Isaiah Fischer, who is now CTO of Peerfocus.
David Morgan, Peerfocus's first president, retired in December. We're deeply grateful to David for all of his hard work over the years, and especially for working closely with Singlebrook to ensure a successful transition.
Singlebrook Customers
We love our customers and we understand the importance of stability in business relationships. As Committed Consultants we will continue to provide custom software development and maintenance services to our current and future customers. This acquisition will help to make Singlebrook a more sustainable company and an even better choice to be your tech partner!
Peerfocus Customers
In the five months since the transition, our customers have successfully launched several surveys, engaged new projects, and completed annual benchmarking releases. We are very happy with how seamless we've been able to make the transition for our valued customers!
With a successful transition behind us, it's time for us to start focusing more on future plans. We're ready to onboard new customers, so one of our focus areas is ramping up our marketing and sales efforts. We just launched a questionnaire for prospective customers. In the coming months, we'll be posting regularly on Peerfocus's LinkedIn page, rebuilding our demo client site, and overhauling Peerfocus's web site (at long last!). If you know anyone who could benefit from the Peerfocus platform, please let us know!
Some of the areas in which the Peerfocus platform shines are:
Salary surveys - Our unique confidentiality protection makes us a great fit for sensitive data applications.
Deep member research - Our sophisticated survey options let our customers collect and store rich data sets.
Academic research - Our reliable software is perfect for hassle-free longitudinal studies.
Consultants/benchmarking - Savvy consultants can leverage our platform to collect industry data and offer benchmarking to their clients.
Future Development
We'll be adding some exciting new features to the Peerfocus platform in the near future:
Peerfocus Storefronts - Customers can sell access to our confidentiality-preserving benchmarking tools, creating new revenue streams for their organization.
External Data Imports - Combining proprietary data with related public data enables powerful new types of analysis and reporting.
Customizable Dashboards - Admins and end-users alike can build their own dashboards, putting the information that is most important to them right at their fingertips.
Company Values and Procurement Benefits
Singlebrook is a certified B Corporation, NYS Benefit Corporation, and MWBE. These certifications underscore our company values, and also make us an ideal vendor for B Corps, governments, educational institutions, and other organizations with diversity in procurement mandates.