Singlebrook & Ithaca-area B Corps Volunteer with Finger Lakes Land Trust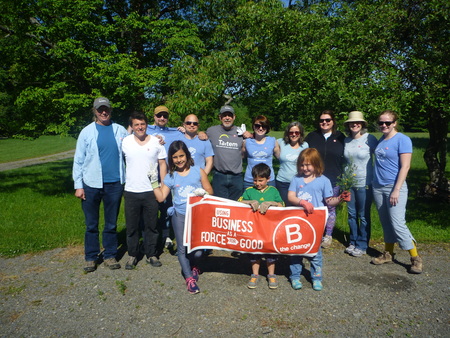 As a Certified B Corp, Singlebrook is a mission-driven, for-profit company with a commitment to serving our community and practicing environmental sustainability. 
Last week we organized an Ithaca-area B Corp volunteer project as part of a month-long effort by B Corps around the country to "B the Change in our Communities". Working with the Finger Lakes Land Trust, through their Trailblazers program, was a fun and educational way to help a great local non-profit organization. 
A handful of Singlebrook team members joined forces with fellow B Corp volunteers from Taitem Engineering. Taitem specializes in mechanical, electrical, and structural design, green design and consulting, sustainability consulting, energy studies, energy research, and renewable energy design and installation. 
We were also joined by Kelly White from Illume Projects, a project management consulting group that helps mission-driven organizations save time and work more effectively. Illume Projects is in the process of certifying as a B Corp!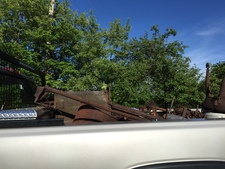 As luck would have it, we had a perfect, sunny afternoon to work at the (not-yet-public) Charles Spencer Nature Preserve in Newfield, NY. FLLT volunteer coordinator Jason Gorman led our group as we removed old scrap metal and debris from the woods lining the future walking trails at the preserve. The metal we retrieved was hauled off to the scrap yard, and FLLT was able to make a small donation back to the organization from the recycled metal. 
The FLLT website describes the organization's structure and important mission: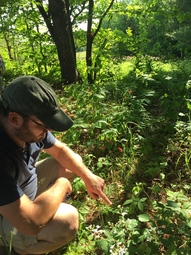 The Finger Lakes Land Trust is a membership supported not for profit land conservation organization that was established in 1989 to work cooperatively with landowners and local communities to protect those lands that are vital to the integrity of the 12-county Finger Lakes Region. 
To date, the organization has protected more than 17,000 acres of the region's undeveloped shoreline, rugged gorges, majestic forest, and scenic farmland. The Land Trust owns and manages more than 30 conservation areas that are open to the public and holds conservation easements on over 100 properties that remain in private ownership.
Next stop for Singlebrook volunteers: NYC! We'll be at City Harvest on June 23rd to volunteer with other NY B Corps. Please get in touch if you would like to join us on future volunteer projects!