Envisioning Every Business Being a Social Business
Another great Axiom News article on Singlebrook co-founder & CEO, Elisa Miller-Out (a photo of Elisa & team as shown on the Axiom home page is also included here). Article originally posted here.
Envisioning Every Business Being a Social Business
It's a hopeful time as social business movement builds momentum, says CEO
Axiom News, Tuesday, November 29, 2011.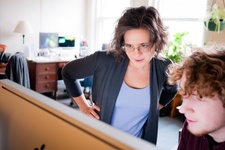 When Elisa Miller-Out was in college, socially-responsible businesses were a fringe movement.
The Singlebrook Technology CEO says at the time there were a few trailblazers and the "Ben & Jerry's of the world" but there wasn't a name for doing business in a socially-conscious way.
"The transformation I've seen in my adult lifetime has been incredible and it's so exciting to be a part of this movement as its really taking off and picking up steam," says Elisa.
People are starting to realize the short-term, solely profit-minded business schools have created economic and environmental devastation in society and the world, says Elisa.
"It's like we've hit the wall with the recession and Occupy Wall Street and all these movements people are realizing it's now that we're feeling these effects of this kind of thinking," she adds.
Elisa is a member of the Social Venture Network (SVN), which provides entrepreneurs and businesses tools for being socially-responsible. Singlebrook Technology is also a certified B Corporation (B Corp) meeting social and environmental performance standards, higher legal accountability standards and building business constituency for good business.
She says having movements like SVN and B Corp gives hope for the future as it provides another way of being a business where you can make a profit and take care of your community, people in your organization and the environment.
"In some cases you can make more of a profit when you do take those things into account and you really make that a big part of your values and the core of your organization, on a legal level as well as on a practical level in everything you do," says Elisa.
Consumers will start to demand and expect business to behave in this way, says Elisa.
"My vision for the movement is that every business will be a social business at some point, every business will be a B Corp and if you aren't people will say well why aren't you?"
She says while it is slow getting to this point, there is social business momentum and once more people see that there is an alternative they will realize there's "no reason to support businesses that are doing anything but the right thing."
Elisa says there is a new movement of young social entrepreneurs that didn't exist 15 years ago. She notes the recent SVN fall conference had 150 new people attend, many of whom were young entrepreneurs. MBA programs now have net impact clubs, and there are social business programs in the academic world.
"It's such a hopeful time right now in that I feel that it's a movement that's really growing, it really has more momentum than ever before."
Related Story:
Socially-Driven Women Technology Entrepreneurs Collaborate
If you have feedback on this article, please contact the newsroom at 800-294-0051, or e-mail Jennifer (at)axiomnews.ca.